PREMISE
Okay, as all die-hard fans know, there were two series. One where Princess Diana of Themyscira masqueraded as a Naval officer, and another when she became an IADC agent. Here are generic summaries for each.
THE NEW ORIGINAL WONDER WOMAN (1975)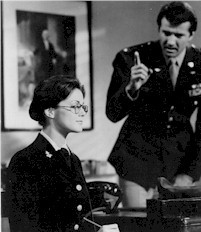 During World War II, a plane piloted by Major Steve Trevor crashes near Paradise Island, the secret hidden island home of the mighty and eternally young Amazons. He is rescued by Princess Diana, who learns of the war against the Nazis. The Amazons decide to send one of their own to help fight in this crisis. Although forbidden to participate in the selection process, Diana joins secretly and wins the right and responsibility to go. Taking the still unconscious Major to safety, she joins him as Yeoman Diana Prince. Furthermore, when the forces of evil threaten the nation, Diana would transform into Wonder Wonder, armed with a magic belt giving her tremendous strength, feminum bracelets that can stop any bullet, a tiara that can be thrown as a returning weapon and a unbreakable magic lasso that can force anyone to tell the truth.
Cast:
Lynda Carter .... Princess Diana/Wonder Woman/Yeoman First Class Diana Prince
Lyle Waggoner .... Major Steve Trevor
John Randolph .... General Blankenship
Red Buttons .... Ashley Norman
Cloris Leachman .... Queen Hippolyte
Stella Stevens .... Marcia
Eric Braeden .... Captain Drangel
WONDER WOMAN (1976)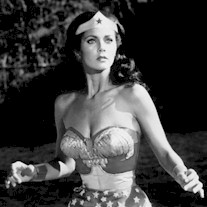 After WW II, she returned to the Island, only to encounter Steve Trevor, Jr., agent for the IADC, thirty years later. Seeing the amazing coincidence as a sign, she returns to the world once more to resume her role as the greatest of the female superheroes.
Cast:
Lynda Carter .... Princess Diana/Wonder Woman/Diana Prince
Norman Burton .... Joe Atkinson
Beatrice Colen .... Etta Candy
Richard Eastham .... Gen. Phil Blankenship
Tom Kratochzil .... Voice of I.R.A.
Saundra Sharp .... Eve
Lyle Waggoner .... Steve Trevor, Jr.
---
Official Sites:
SCIFI.com's Wonder Woman site
DC Comics: WonderWoman.com