---
It's easy to think that the beautiful Lynda Carter, famous for her role of Wonder Woman in the '70s, is as royal as the character she portrayed. But she was born to ordinary parents who imbued their three children with a love of music and dance. This prompted Lynda to begin her career at 15, singing weekend gigs at a local pizza parlor with her group, The Relatives. By 17, she was playing the Reno-to-Las Vegas lounge circuit, but the road soon got old. After a few years, she returned to Phoenix, where she entered a local beauty pageant. Within a matter of weeks, the 21-year-old found herself competing in – and winning – the Miss World USA competition.
After earning that crown, Lynda moved to Los Angeles and studied acting. Her big break came when she was cast by producer Doug Cramer in a new network series based on a female comic book hero. The two-hour pilot, "The New Original Wonder Woman," aired in 1975, and the series was picked up shortly after; it made her famous practically overnight. Less than two years after the show premiered, she married her manager, Ron Samuels, but they later divorced.
After the series was cancelled following a four year run, Lynda went on to star in several musical specials, and though her best-known role was now behind her, she continued to receive job offers. She played Rita Hayworth in a 1983 TV movie biography and signed a lucrative contract with Maybelline cosmetics. She co-starred with Loni Anderson in a short-lived series entitled "Partners in Crime."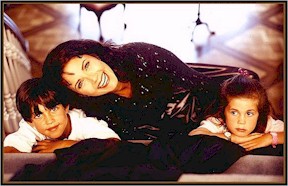 Her second marriage, however, would prove to be more enduring. She met and married attorney Robert Altman, moved to Washington, DC, and left Hollywood to settle down and start a family. She gave birth to a son, James, in 1988 and a daughter, Jessica, in 1990. (Cetara's note: my mom was born on the same day as Jessica, albeit 49 years earlier!)
In 1994, Lynda participated in her last series to date, "Hawkeye," on which she played a tough pioneer wife. Eventually she gave up the role when it became clear that it demanded too much time away from her family. Today, sje is still striving to balance her family life, career and charity work as she continues to act in one television movie a year and to promote women's health issues. She doesn't miss those "Wonder Woman" days either, believing wholeheartedly that raising her family has been her most rewarding accomplishment. That's a superhero sentiment if there ever was one.