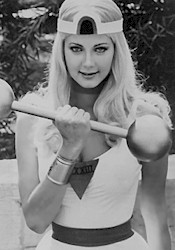 The New Original Wonder Woman
American war hero Steve Trevor is downed over the Bermuda Triangle and lands on "Paradise Island", home of the Amazons. The Amazons hold a contest and choose a champion among them — Wonder Woman — who will return with Steve Trevor to America and remain there to fight the Nazi threat.
Wonder Woman Meets Baroness Von Günther
When Major Steve Trevor is accused of sabotaging a top secret government mission, Wonder Woman fights to prove his innocence and uncover a top Nazi spy ring.
Fausta, The Nazi Wonder Woman
Wonder Woman must use all her cunning and prowess when confronted by her evil Nazi counterpart.
Beauty on Parade
Wonder Woman infiltrates a dangerous sabotage ring which operates under the cover of a government sanctioned beauty contest.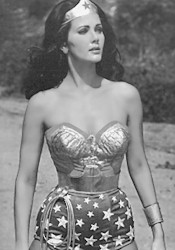 The Feminum Mystique – Part I
While involved in the top secret production of America's first jet plane, Wonder Woman is surprised by a visitor (guest star Debra Winger as Drusilla) from Paradise Island.
The Feminum Mystique – Part II
Wonder Woman faces a double threat by Nazi invaders.
Wonder Woman VS. Gargantua
Wonder Woman battles a giant gorilla for the life of a valuable double agent captured by the Nazis.
The Pluto File
Wonder Woman races against time to capture an enemy agent infected with the dreaded Bubonic Plague and armed with a secret formula that could destroy the United States.
The Last of the Two Dollar Bills
When the economy of America is jeopardized by a treacherous Nazi scheme, Wonder Woman rushes to the rescue.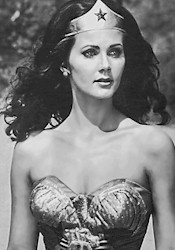 Judgment from Outer Space – Part I
Wonder Woman joins forces with a friendly alien from outer space to prevent the destruction of the world.
Judgment from Outer Space – Part II
Wonder Woman realizes that the fate of the world rests on her ability to prove the worth of mankind by saving an alien from outer space.
Formula 407
Wonder Woman goes south of the border to recover a top secret formula stolen by the Nazis.
The Bushwhackers - Wonder Woman goes to Texas where she is confronted by a dangerous ring of pistol-packing rustlers.
Wonder Woman in Hollywood
Wonder Woman arrives in Hollywood and discovers some behind the scenes action that's not in the script.