Come in and welcome - and thank you for knocking! Your mother taught you wonderful manners. You've come to learn about the Cetara behind the scenes. Well, please choose a chair to your liking, and I'll tell you a little about me...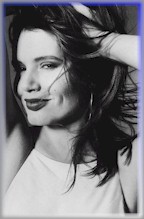 Well, I'm sure you want a picture, eh? Hmm. Unfortunately I don't have any really good recent ones, so I'm going to cheat. Here's a pic from my sister site that I'm using in lieu of my own. That lady there, Geena Davis, and I do have a resemblance, so I'm hoping she won't mind too much as long as I mention it's really her and not me.
My family is a small one. In addition to people, there are three cats who rule their roosts (Cleopatra Maru is my mother's keeper, and Tinker Belle Mhyrr and Molly Mauser are mine). I also have a step-cat Black Jack who lives with my friend Mark and I cat sit whenever possible.
I enjoy speaking and reading la française, designing my own jewelry, throwing pottery (that is making pots and things with my hands or a potter's wheel, not physically throwing clay at the walls) and - of course - designing my pages whenever I can free up a million minutes.
Above that, I've been a fan of the Star WarsTM universe since its release as a young lass of 7 (for obvious reasons, I haven't attempted to do a page of my own with the zillions already out there. Maybe a favorite quotes page some day...). Han will always be my hero, Leia my heroine, and Chewie my best friend in the galaxy. Now, if only I could find myself a real life Falcon to fly... with a hyperdrive that actually works now and again... and maybe a handsome co-pilot to share it with...
Yet, however great my love of Star WarsTM, and movies in general, my love of television is greater. Every day of the week presents a favorite show on the small screen for me to watch. Many of them you can discover as well -- along with a couple celebrities and authors thrown in, as I've developed pages for them. Just bookmark http://cetara.tripod.com/ to see what's new and what's coming soon. If they keep giving me space on my Tripod account, I could go crazy and keep adding sites until Texas freezes over! I've even started another web site based on those books my family keeps hearing me talk about, so check out my alter ego, Cecile St. Anne, for additional fun.
So, now that you something about me, feel free to continue your explorations. Thank you for visiting!
©1999 ~ Cetara herself, Web mistress, Cetara Online.