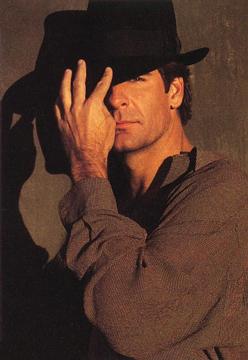 Dr. Samuel "Sam" Beckett
Scientist/Director
Project Quantum Leap



Born:
Scott Stewart Bakula
09 October 1954
St. Louis, MO
Height: 6'0

Family:
parents Stewart and Sally Bakula
two younger siblings, Brad and Linda
ex-spouse Krista Neumann (m. 1981–1995)
spouse Chelsea Field (m. 1996–)
daughter Chelsy (b. 1984)
son Cody (b. 1991; adopted)
son Wil (b. 1996)
son Owen (b. July 1999)


Education:
Kirkwood High School, St. Louis MO (1973)
University of Kansas, pre-law/accounting (1973/1974)
University of Kansas, theatre studies (1974–1977)
Phi Delta Gamma fraternity



Coming from a set of musical parents, it comes as no surprise to discover that Scott ("Bak" to his friends) has a background in music. From the fourth grade on, he's played in rock and roll bands, sung with the St. Louis Symphony, and done a tour on Broadway. With these skills, he's gained the recognition and respect of his peers, including a Golden Globe® in 1992 for his portrayal as Dr. Sam Beckett and a Tony nominatin for his 1988 performance in "Romance/Romance."
After his five-year journey ended on Quantum Leap in 1993, Scott journeyed back into the theatre, television and films. Fans of Murphy Brown will remember him as Peter Hunt, Murphy's hunky significant other. He also took a turn as a spy as Maria Bello's other half in Mr. and Mrs. Smith. On the big screen, Scott appeared in films of many genres, from Major League: Back to the Minors to American Beauty. When interviewed, he considers himself just your everyday average guy:
"I don't have any outlandish character traits or style. I just kind of do my own thing. Maybe it hurts me that I'm not as flashy or trashy as some other people out there. I'm not going to change that. It would be too false for me to become some other person to get attention." (Detour magazine, 1995)
In addition to his acting, Scott enjoys a good game of hockey – a nice thing to know for all us Northern girls. :) Scott's participated in many Celebrity Hockey Games, which are organized to raise money for various charities. In Style magazine quotes him as saying:
"For me, hockey is a great emotional and physical release. I go on the ice with pressures on my mind but once I'm finished, I'm exhilarated. I'll walk out of the rink, my adrenaline all pumped. I'm like a kid until the next morning when I wake up aching.

"I skated out in front of this sold-out crowd and tried to stop. But I lost my balance and crashed down on my back. Everybody got a big kick out of it – including my daughter who was attending her first hockey game."
Scott can be seen Wednesdays as Capt. Jonathan Archer in Star Trek: Enterprise on UPN.