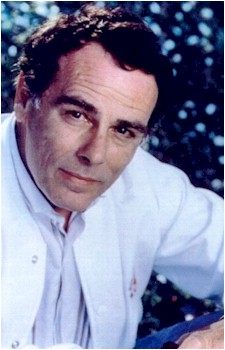 Rear Admiral Albert "Al" Calavicci
Observer/Capital Hill Liaison
Project Quantum Leap



Born:
Robert Dean Stockwell
05 March 1936
Hollywood CA
Height: 5'6

Family:
parents Harry and Elizabeth Stockwell; step-mother Nina Olivette
brother Guy Stockwell (Return to Peyton Place)
ex-spouse Millie Perkins (m. 1960–1962)
ex-spouse Joy Marchenko (m. 1981–1996)
son Austin (b. 5 November 1983)
daughter Sophia (b. July 1985)


Education:
MGM "Little Red Schoolhouse," Los Angeles CA (1944–1950)
Alexander Hamiltin High School, Los Angeles CA (1952)
University of California at Berkeley, English (1952–1953)



As a child star of the studios in the 1950s, Dean began the first round of his career, which has spanned over sixty years. From his first Broadway play (Innocent Voyage, 1943) to his many cameo roles on telelvision, film and in the theatre, Dean's had little control over how his career has gone.

While he was making nearly a score of films for MGM studios, Dean was longing for a life outside the imposing rules of studio life. Perhaps, then, it's no wonder that this young actor simply took a break from life upon graduating high school to lose himself in the world — a time in his life many refer to as his "lost years."
The pull of the industry eventually lured Dean back to New York City, where he won roles on live television and found himself a teen idol at a time when fans were reeling from the shocking death of James Dean. He played the "bad boy" well, and his performances in Compulsion (1959) and Long Day's Journey into Night (1962) garnered him industry recognition.

More than just an actor, Dean was an artist in his own right in various mediums. His associations with other like-minded creative spirits links him with the "Beat Generation," and it was during this time that he met his best friend, Dennis Hopper, who stopped backstage after a performance of Complusion, and experienced his first relationship with actress Millie Perkins.


"I value nothing higher than friendship, unless it be humanities' greatest virtue, which is Love."
For the next couple of decades, Dean immersed himself in just about anything other than acting. Music was a special interest, and interestingly Dean influenced many names of the time. He inspired Neil Young to create After the Gold Rush when the musician read Dean's screenplay by the same title, and participated in David Bowie's wild Lost Summer of 1975. But when the 1980s came around, it was time to make some serious decisions about his life.

Married and living in Santa Fe with his second wife, Joy, and their two children, Dean had intended to retire from the actor's life. Still, he found himself taking on bit parts here and there, until he recreated himself with the role of Tony "The Tiger" Russo in 1988's Married to the Mob. Everyone took notice, including the Academy of Motion Picture Arts and Sciences®, and he received an Oscar nomination for his comic turn as a philandering Mob boss chasing after newly widowed Michelle Pfeiffer. His role as the charismatic and horny as hell admiral in Quantum Leap wasn't far behind.


"I guess people say that actors take a little bit of the part away with them, but if I really was as streetwise and cocky as Al, I'd probably have been a bigger star."
Well, while he may not think he's that big a star, his fans know differently. Dean can be seen in the recurring role of the Secretary of the Navy Sheffield in JAG, airing Fridays 9P/8C on CBS.