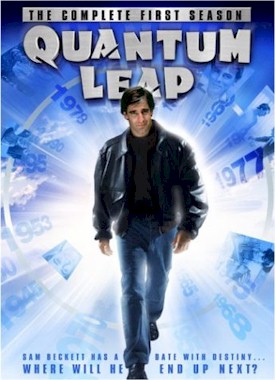 Click here to Buy Me From Amazon.com
The Complete First Season

Studio:
Universal Studios
Released:
8 June 2004
Edition Details:
Region 1 encoding (US and Canada only)
Color, Box set
All nine episodes, including the two-hour
"A Kiss With History: Remembering "Quantum Leap" feature of the making of the series
Episode Introductions
Hidden Messages
Full-screen format
Number of discs: 3
Sam Beckett is a scientist who's part of a time-travel experiment that "went a little... caca." Unable to return to his own time, and aided only by Al, his cigar-smoking, peculiar-dressing, sex-obsessed, holographic "enabler," Sam "leaps" unpredictably from one time period and person to another, usually completely out of his element (as a pilot, a boxer, a cowboy, an English lit professor, even an elderly black man in segregated '50s Alabama) and always in a situation that needs to be "made right" before he can leap onward.

Generous helpings of humor, drama, physical action, and sentimentality keep things moving, as do references to many other classic films and genres (Driving Miss Daisy in "The Color of Truth," Casablanca in "Play it Again, Seymour," boxing in general in "The Right Hand of God") and what creator Donald Bellisario calls the occasional "kiss with history" (Sam crosses paths with the young Buddy Holly and Michael Jackson, among others).
Introductions

Season One Introduction by Dr. Beckett

"It all started when a time-travel experiment I was conducting went... a little "caca." In the blink of a cosmic clock I went from quantum physicist to Air Force test pilot, which could have been fun... if I knew how to fly. Fortunately, I had help -- an observer from the project named Al. Unfortunately, Al's a hologram so all he can lend is moral support. Anyway, here I am, bouncing around through time, putting things right that once went wrong, a sort of... time-traveling Lone Ranger, with Al as my Tonto. And I don't even need a mask... Oh, boy..."
Season Two+ Introduction by Ziggy
"Theorizing that one could time travel within his own lifetime, Dr. Sam Beckett stepped into the Quantum Leap accelerator and Vanished. He woke to find himself trapped in the past, facing mirror images that were not his own and driven by an unknown force to change history for the better. His only guide on this journey is Al, an observer from his own time, who appears in the form of a hologram that only Sam can see and hear. And so Dr. Beckett finds himself leaping from life to life, striving to put right what once went wrong and hoping each time that his next leap will be the leap home..."