If you're looking for sound files, only a couple special ones are included here. Thanks to Al's Place, which is where I found these lovlies. He's got lots more, so go visit his site once you're done here. I downloaded my two absolute favorites and I'm posting and sharing them with you here.
The first of my favorites is that 80's movie title hit, Footloose. It appeared in Piano Man, which aired in the spring of Season Three.

The song is a duet by Sam/Joey and Lorraine Danner (played to goofy perfection by Marietta DePrima). It's a great jazzy piano version of the Kenny Loggins tune, and has the extras in the diner adding to the track with their water glasses and spoons.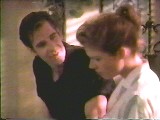 The second is a Gospel favorite. Amazing Grace was heard in Memphis Melody, which aired at the end of the final season.

This time around, the song is a duet by Sam/Elvis and Sue Ann Winters (guest star Mary Elizabeth McGlynn). It's a great version of a great song, and always one of my favorites. On a side note, Scott's real-life daughter, Chelsy, is an extra in this scene. How cool is that? :)