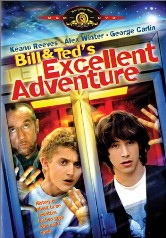 Click here to Buy Me From Amazon.com
Bill and Ted's Excellent Adventure

Bill & Ted are two teenagers who are trying to start a 'most excellent' band, when they really don't know how to play, and are about to flunk out of history. Worse, if Ted flunks history, his father is going to send him to a military academy in Alaska. If this happens, Bill & Ted's band will never be formed and the utopian future that results from their music will never come to pass. So, the folks from the future send Rufus (George Carlin) back in time to help Bill & Ted pass. With the help of Rufus and a time-traveling phone booth, Bill and Ted set out to find 'personages of historical significance' to pass their history report.

Features include a theatrical trailer.

Hey, dudes! Here's a couple most excellent quotes to fill up the bogus empty space!

After seeing the Princesses Joanna and Elizabeth
Ted: Bill?
Bill: What?
Ted: I'm in love, dude.
Bill: Come on, this is a history report, not a babe report.
Ted: But, Bill, those are historical babes!
Bill: Okay, you're the ladies' man. How we gonna meet 'em?

Bill thought Ted was killed.
Bill: Ted, you're alive!
Ted: Yeah, I fell out of my armor when I hit the floor!