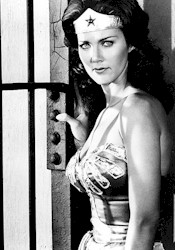 One of Our Teenage Idols Is Missing
A teenage pop music star (guest star Leif Garrett) is kidnapped on the eve of a huge arena concert and is replaced by his twin brother. Wonder Woman comes to the rescue and captures the kidnappers.
Hot Wheels
Diana and Wonder Woman team up with a detective, who goes underground, to bust an antique car theft ring.
The Deadly Sting
College football games are being fixed by someone who has developed a biodegradable computerized implant enabling him to temporarily control the motor movements of athletes, but Wonder Woman nabs the bad guys before they collect their one-million dollar bet.
The Fine Art Of Crime
Wonder Woman breaks up a ring of art thieves who use realistic-looking statues who are actually in suspended animation to rob museums.
Disco Devil
A paranormal psychic invades minds for international secrets, only to be stopped when Wonder Woman produces a man with canceling effects.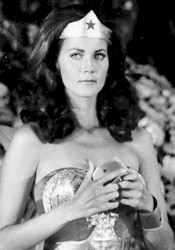 Formicida
A deadly pesticide threatens the human race and a strange ant woman threatens a billionaire industrialist as the IADC and Wonder Woman find themselves on both sides.
Time Bomb
Wonder Woman races against time to stop a fiendish time traveler from year 2155 from blowing up the city of Phoenix with as-yet unknown radioactive substance more potent than plutonium.
Skateboard Wiz
A ruthless mobster wants to turn the sleepy town of Santa Corona into gambling casinos and uses Diana Prince's teenage goddaughter, a skateboard champion, as his lever for blackmail but Wonder Woman foils his attempt.
The Deadly Dolphin
A trained dolphin is kidnapped, strapped with explosives and sent on a deadly radio-controlled mission to sink an oil tanker and spill 500,00 barrels of crude oil onto the California coast.
Stolen Faces
Wonder Woman uncovers a plot to steal millions of dollars in jewels from wealthy partygoers by impersonating her and her IDAC colleagues.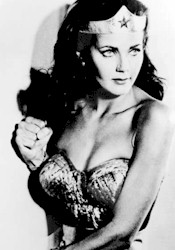 Pot of Gold
A petty crook steals gold in order to buy $100-bill printing plates from a counterfeiter but Wonder Woman foils the sale.
Gault's Brain
A scientist's plan to preserve a corporate magnate's brain in the body of an athlete is shattered by Wonder Woman.
Going, Going, Gone
A black-market warhead recovered from a Russian jet is up for sale to the highest bidder but Wonder Woman arrives in time to foil the sale.
Spaced Out
Hordes of spaced-out fanatic sci-fi fans complicate IADC agent Diana Prince's pursuit of the thief of an ultra-secret laser crystal.
The Starships Are Coming
Wonder Woman steps in at the right moment and stops a gullible Air Force from releasing a nuclear missile.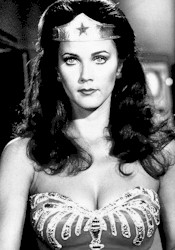 Amazon Hot Wax
Diana Prince goes undercover as a popular singer (guest star Rick Springfield) to crack a record extortion ring.
The Richest Man in The World
Wonder Woman stops the black market sale of a super-secret missile guidance systems scrambling device and thus avoids an international incident.
A Date With Doomsday
Wonder Woman rescues a vial of potentially catastrophic virus which was stolen from a government laboratory and saves tens of thousands of lives.
The Girl With A Gift For Disaster
Bonnie Murphy, a young woman with a gift for disaster, becomes an unwitting "jinx" as an accomplice in the theft of priceless historical documents until Wonder Woman comes to her aid.
The Boy Who Knew Her Secret – Part I
Diana Prince, investigating a strange alien force in a small suburban community, is seen whirling into Wonder Woman by a young boy.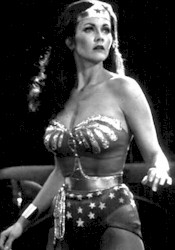 The Boy Who Knew Her Secret – Part II
With a boy knowing that she is really Diana Prince she continues her battle against a mysterious alien invasion.
The Man Who Could Not Die
Wonder Woman meets the invulnerable man and they join forces to fight crime.
Phantom of the Roller Coaster – Part I Diana Prince poses as a double agent and encounters an enemy of the United States who sells governments secrets.
Phantom of the Roller Coaster – Part II Wonder Woman's strength, ability and quick action saves hundreds of people from a disastrous accident at an amusement park.